How Often Should You Change Your Oil?

Regular oil changes are an important part of keeping your car maintenance schedule. Experts used to recommend that you have your oil changed every 3,000 miles, but due to advancements in oil and engine technology that interval has been extended. Most new vehicles can be driven from 7,500 to 10,000 miles between oil changes. Check your owner's manual to find out what's recommended for your specific vehicle make and model, then visit the service center at your local Allen Samuels Auto Group dealership to get a fast, professional oil change today!
Oil Change Schedule Guidelines
An oil change should be performed every 7,500 to 10,000 miles, but some vehicles will need their oil changed sooner. Certain types of driving situations will affect your oil change schedule. Some of these include:
Off-roading
Racing
Heavy towing
If any of the above apply to you, make sure to bring your car in to one of the Allen Samuels Auto Group service centers and let our certified service techs help you determine the right oil change schedule for your vehicle. If you do a lot of towing in your used RAM 1500, you'll definitely want to have your oil changed more frequently.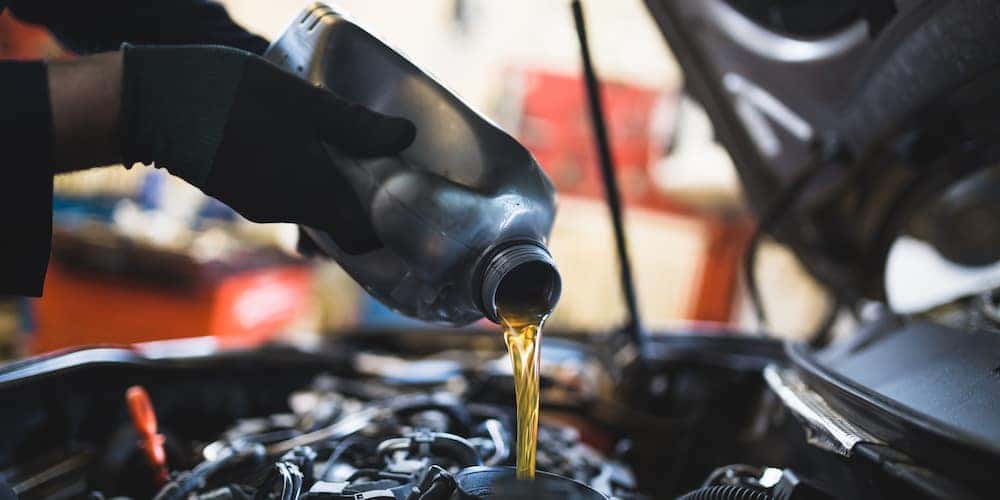 More Oil Change Tips
Here are some key facts about oil changes that you should take a look at before you visit one of our service centers:
Even if you don't regularly drive your car, it's still important to have your oil changed at least twice a year. Engine oil will break down over time, even if your car isn't being driven.
The oil filter should always be replaced at the same time that the oil is changed. If you are changing the oil yourself, make sure to stop by our parts department to find the correct oil filter for your vehicle.
Synthetic vs. conventional oil? Synthetic oil can cost more but is also engineered to last longer. Always check your owner's manual to find out which is required for your car, truck, or SUV.
How Often Should I Check My Oil Level?
You should check your oil at least once a month. This will not only help make sure that your engine is properly lubricated, but will also alert you to possible leaks in the oil system.
When you check the oil level, pay attention to the color of the oil and be on the lookout for particles of metal in the oil. Either of these can be a sign of a serious issue that will need to be addressed immediately in order to avoid costly damage to the engine.
Turn to Allen Samuels Auto Group for Oil Changes
The auto experts at the Allen Samuels Auto Group service center near you are ready to take care of all your oil change and routine maintenance needs. We are always happy to provide advice on things like how long does an oil change take, how to jump start a car, or how to use your tire pressure monitoring system. You can also rely on professional collision repair in our state-of-the-art auto body shop in Oxford, MS.
Contact us to schedule service, and if you're looking to upgrade your commute, explore our huge new vehicle inventory today! While you're here, check out our guide on how often to change your engine air filter.
More From Allen Samuels Auto Group
RAM stands for overwhelming power. When properly equipped, the 2022 RAM 3500 towing capacity is up to 37,090 pounds, depending on how you tow the load in question. Never mind boats or multi-vehicle trailers; this is enough pulling power to safely move small houses, provided they are mobile. In a way, it makes questions…

With an astounding 20,000 pounds of towing capacity when properly equipped, the RAM 2500 can handle just about anything you can imagine with the ease of lifting a finger. Explore the details of 2022 RAM 2500 towing capacity below, and find out, "How much can the 2022 RAM 2500 tow with various configurations?" Do…

The 2022 RAM 1500 weight matters for a number of reasons, most of all in terms of towing and hauling. RAM 1500 weight falls between 4,775 and 6,439 pounds. That all depends on the configuration you select for your RAM truck. We'll go over RAM 1500 GVWR, GCWR, and curb weight below if you…