How Often to Change an Engine Air Filter


Engine air filters are a small, often overlooked but crucial part of your vehicle's system. Most drivers around Waco don't know how often to change their engine air filter, much less what it does in the first place. "How often should you change your engine air filter?" you ask. While the rule of thumb can change depending on your make and model, most automakers recommend that you install a new replacement engine air filter every 30,000 to 45,000 miles. Allen Samuels Auto Group recommends consulting your owner's manual just to be sure.
What Does an Engine Air Filter Do?
Now that you know how often to change your engine air filter, it's time to learn about what purpose it serves. Your engine air filter simply keeps debris from contaminating your engine. When dirt gunks up the oil on your engine's fine moving parts, it not only increases their rate of deterioration but it slows down your engine's movement, making it that much harder for it to combust. The signs that your engine air filter is due for a replacement are:
Lower fuel economy numbers
Misfiring spark plugs
A flashing engine light
Black exhaust
Slower acceleration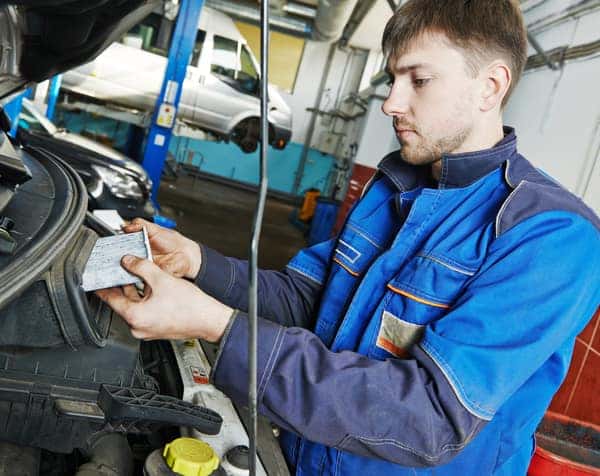 Air Filter Replacement Schedule
As previously mentioned, how often to change your engine air filter can depend on your particular model, and you should consult your owner's manual. However, there are a few other things to consider. If you drive often around Waco roads or you often drive on gravel or ill-maintained streets, or if you regularly drive in heavy Waco traffic on hot days, you should change your car air filter more often and consult your mechanic for a custom schedule.
Fortunately, air filters are easy to inspect yourself. Just open the air filter compartment under the hood. If it's black or choked up with debris, change it out. For more service tips like removing smoke smell from a car and more, visit Allen Samuels Auto Group.
Let the Auto Mechanics at Allen Samuels Auto Group Help with Filter Replacement!
If you find you're in need of a replacement engine air filter around the local area, don't hesitate to reach out to the mechanics at a Allen Samuels Auto Group dealership in the Waco area. We have competitive prices on already affordable air filters and can help with a low-cost engine air filter. Contact us online for more details, and while you're here, be sure to check out our other help guides on topics ranging from "how often to change your oil" to "how often you should change your spark plugs."
More from Allen Samuels Auto Group
RAM stands for overwhelming power. When properly equipped, the 2022 RAM 3500 towing capacity is up to 37,090 pounds, depending on how you tow the load in question. Never mind boats or multi-vehicle trailers; this is enough pulling power to safely move small houses, provided they are mobile. In a way, it makes questions…

With an astounding 20,000 pounds of towing capacity when properly equipped, the RAM 2500 can handle just about anything you can imagine with the ease of lifting a finger. Explore the details of 2022 RAM 2500 towing capacity below, and find out, "How much can the 2022 RAM 2500 tow with various configurations?" Do…

The 2022 RAM 1500 weight matters for a number of reasons, most of all in terms of towing and hauling. RAM 1500 weight falls between 4,775 and 6,439 pounds. That all depends on the configuration you select for your RAM truck. We'll go over RAM 1500 GVWR, GCWR, and curb weight below if you…