How to Buy a New Car

Do you think that you're ready to upgrade your rides around Texas and Oklahoma? If so, you'll want to be sure that you know how to buy a new car the right way! The decision may feel like a daunting one, but when you're sure that it's happening at the right time, it becomes a whole lot less stressful. Allen Samuels Auto Group has put together a guide with everything you need to know.
When to Buy a New Car
Knowing when to buy a new car is just as important as knowing how to do so. Here are some questions to ask yourself before you make a final decision:
Are you constantly paying for expensive repairs? Choosing a new vehicle could help you save big, especially if you opt for a model that's under warranty. The same statement is true if you're trying to keep up with emissions regulations.
Have you ever felt unsafe on the roads near Hutchinson or Jackson? Choosing a new car can help to give you peace of mind, so you can focus on what really matters.
Have your needs changed? If you're suddenly driving for a whole family, you might need to trade up. Maybe you're starting a new job, and your inefficient old vehicle just won't cut it anymore.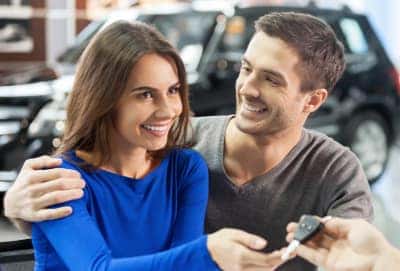 How to Buy a New Car That You'll Love
So, you've made the decision to upgrade, but you're still not sure of how to buy a car with everything that you'll need. First things first: You'll want to set a budget.
After you've figured out how much you can spend on a new car, you'll want to follow these steps:
Find your segment.

Make a list of your needs, then choose the segment that best fulfills them. Do you need a family-friendly SUV? What about a fuel-efficient sedan or a versatile wagon? Maybe you need the towing power that only a pickup can deliver.

Research the segment and pick your top three models.

Explore warranties, reliability predictions, cost, and features in order to find the perfect model. You may want to test drive each vehicle before you make a final decision.

Pick your favorite and move forward.

Search local dealership inventories, or go to private sellers to find the model you've settled on. Research what other shoppers have paid, available technologies, like active safety features or Uconnect App compatability, and secure financing for your purchase.
Remember: You can trade-in a car or lease in order to lower your upfront costs and monthly payments! We're here to help you figure out what a good interest rate is for you given your situation and help you with the entirety fo the financing process. If you're interested in buying pre-owned, then learn what to check before buying used with us, so you can buy with confidence.
Get Your New Car at a Local Allen Samuels Auto Group Dealership!
Allen Samuels Auto Group has well-stocked dealerships in Texas, Kansas, Mississippi, and beyond! If you've determined that it's time to learn how to buy a new car, there's no better place to start your search for new and used vehicles.
No matter which route you take, our finance team will be with you every step of the way. We've got your back, even if you're struggling with low credit or no credit. We can also discuss any questions you have about insurance.
More From Allen Samuels Auto Group