Wheel Balancing vs. Wheel Alignment

Although you may not think about it, your tires are one of the most essential components of your vehicle. Two routine tire services are wheel alignment and balancing. What sets these two services apart? Wheel balancing and wheel alignment are different, and both are very important to the longevity of your vehicle. Allen Samuels Auto Group has the details on the two maintenance tasks.
What is Wheel Balancing Service?
Wheel balancing is a service that is necessary because daily driving takes a toll on your tires and can cause them to shift from where they should be. When your wheels are unbalanced, you will likely notice that your steering wheel shakes or vibrates. Unbalanced tires develop varying tire wear because one part of the tire is heavier than the others.
For a smooth ride, you will want to make sure your tires are balanced. This service decreases tire bouncing, improves traction and control, and helps your tires last longer. When you get your tires rotated, it is a good idea to also have your wheels balanced. These services should be performed every 5,000 to 6,0000 miles or every 6 months.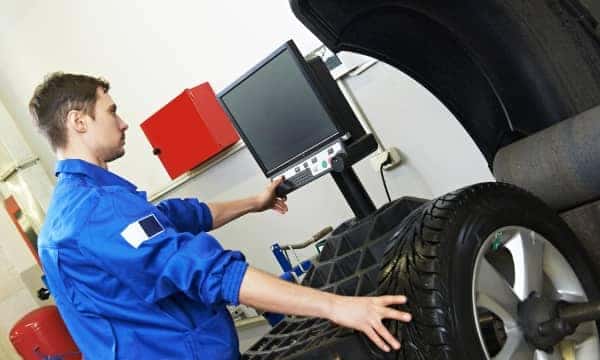 What is Wheel Alignment Service?
Wheel alignment may not be part of your routine maintenance schedule, but it is a service that should be performed as needed. When you have your wheels aligned, which is sometimes referred to as a front end alignment, the service technician will make sure that the tires are perpendicular to the road and parallel to each other.
What can happen if your tires are not aligned properly? It can cause excessive wear and tear on the tires, steering issues, and uneven tire tread. If you notice that your vehicle is pulling to one side and drifting into the next lane, it could be a sign that your car requires a wheel alignment.
Wheel Balancing vs. Wheel Alignment: Which do You Need?
After reading our guide to wheel balancing and wheel alignment, you now can determine which of these services your vehicle requires. If you have noticed any of the warning signs mentioned above, set up an appointment with the service experts at one of our service centers. Contact us today for more information.
More from Allen Samuels Auto Group
The RAM 1500 trim levels have plenty to offer your Waco drives thanks to its plush materials, premium features, and spacious cabin. The 2023 RAM 1500 interior will help make your Waco adventures unforgettable! We at Allen Samuels Auto Group invite you to discover the 2023 RAM 1500 interior features, dimensions, and more in this handy guide…

RAM stands for overwhelming power. When properly equipped, the 2022 RAM 3500 towing capacity is up to 37,090 pounds, depending on how you tow the load in question. Never mind boats or multi-vehicle trailers; this is enough pulling power to safely move small houses, provided they are mobile. In a way, it makes questions…

With an astounding 20,000 pounds of towing capacity when properly equipped, the RAM 2500 can handle just about anything you can imagine with the ease of lifting a finger. Explore the details of 2022 RAM 2500 towing capacity below, and find out, "How much can the 2022 RAM 2500 tow with various configurations?" Do…