How to Check Your Transmission Fluid

If you have a new vehicle, there's no doubt you want to keep it in great shape. And since your transmission is an essential part of your vehicle, conducting regular inspections on it can alert you to problems before they become a big deal. Allen Samuels Auto Group covers how to check your transmission fluid and more below!
How to Check Your Transmission Fluid: Step-by-Step Instructions
Similar to oil changes, transmission fluid inspections should be a regular part of your maintenance routine. Waco drivers can conduct this inspection from their homes by following a few simple steps:
Warm Up the Engine: With the car in park, turn the engine on for a few minutes. It'll need to warm up so you can check the levels properly.
Find the Dipstick: The transmission fluid dipstick is usually right by the oil dipstick on FWD vehicles. Your owner's manual will tell you the exact location of your transmission fluid dipstick if you're having trouble.
Inspect the Liquid: First, you'll want to make sure the fluid isn't too dirty by placing some of it between your thumb and forefinger. It should be almost clear with a slight pink hue. If it's much darker in color or even if it smells bad, you're going to need to schedule service.
Check the Level: Wipe the stick down with a rag, stick it back in, and remove it to check for the right level. There should be a "full" marker on the dipstick that indicates the right fluid level.
If you don't have enough transmission fluid, you'll need to replace it. You should be able to find all the equipment you need in a Aransas Pass hardware store, but contact a parts center if you're having trouble.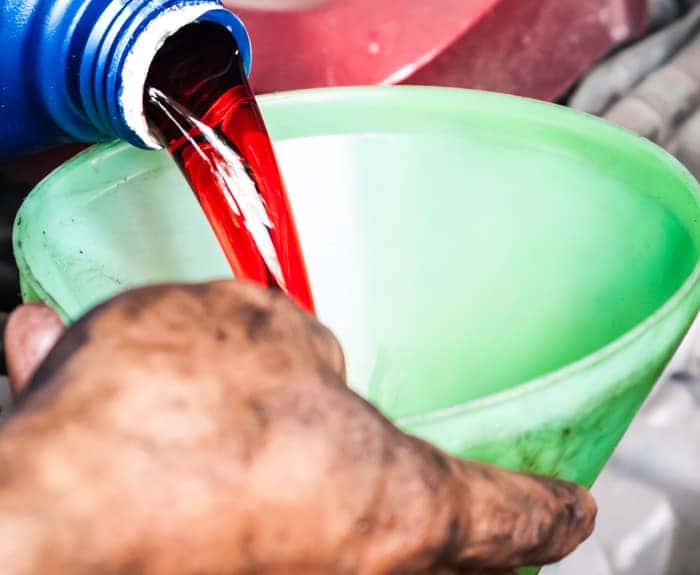 How Often Do You Check Your Transmission Fluid?
So, how often do you check your transmission fluid? It's a good rule of thumb to check your vehicle's fluid levels monthly. When it comes to transmission fluid, there are a few factors to keep in mind:
Types of Fluids: There are many different kinds of transmissions, so there are also many kinds of fluids. Check your owner's manual for the exact type of fluid.
Symptoms of Low Transmission Fluid: If you sense a delay between gears in your vehicle, this could indicate low transmission fluid.
Manual Transmission: It can be a bit trickier to check the transmission fluid levels on a vehicle with manual transmission, so it's a good idea to consult a Hutchinson service center.
How Often To Change Transmission: Besides asking, "How often do you check your transmission fluid?", many ask how often their fluid requires a change. The general answer is every 50,000-100,000 miles, but there's variation based upon vehicle performance and driving history.
Find Service Tips with Allen Samuels Auto Group
At Allen Samuels Auto Group, we don't just want to provide Waco drivers with great cars. We also want to help you keep them in optimal shape by using our DIY service tips. For more expert advice or any questions about transmission fluid, contact us today!
More from Allen Samuels Auto Group
RAM stands for overwhelming power. When properly equipped, the 2022 RAM 3500 towing capacity is up to 37,090 pounds, depending on how you tow the load in question. Never mind boats or multi-vehicle trailers; this is enough pulling power to safely move small houses, provided they are mobile. In a way, it makes questions…

With an astounding 20,000 pounds of towing capacity when properly equipped, the RAM 2500 can handle just about anything you can imagine with the ease of lifting a finger. Explore the details of 2022 RAM 2500 towing capacity below, and find out, "How much can the 2022 RAM 2500 tow with various configurations?" Do…

The 2022 RAM 1500 weight matters for a number of reasons, most of all in terms of towing and hauling. RAM 1500 weight falls between 4,775 and 6,439 pounds. That all depends on the configuration you select for your RAM truck. We'll go over RAM 1500 GVWR, GCWR, and curb weight below if you…