How Often to Change Your Spark Plugs

Many Hutchinson drivers wonder how often to change spark plugs and about the warning signs that spark plugs may need to be replaced. According to experts, spark plugs should be changed approximately every 30,000 miles. However, this can vary depending on the vehicle that you have. Your owner's manual should have the recommended intervals for your particular make and model. Find out more about when to replace these spark plugs below, and contact the Allen Samuels Auto Group service center if you have questions or need assistance.
When Do I Change Spark Plugs?
Your spark plugs may be tiny, but they are an important ignition component that works by moving the high voltage current from the ignition coil to ignite the combustion chamber as soon as you start your vehicle. When your spark plugs are not working as they should, you may notice issues with the performance of your vehicle, such as:
Slow or no start
Engine misfire
The engine is running rough
Rough idling
Poor acceleration
High fuel consumption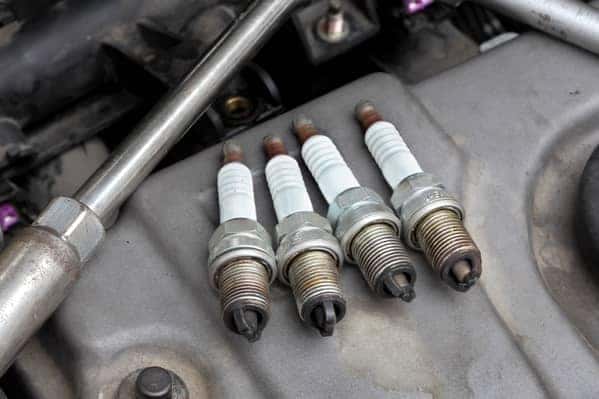 Benefits of Changing Your Spark Plugs
In addition to avoiding some of the issues listed above, there are other benefits that can come from regularly changing your spark plugs. Below, Allen Samuels Auto Group has included a list of reasons why your spark plugs should be replaced at the proper intervals.
Improved fuel economy – Having a worn-out spark plug can reduce your fuel economy by as much as 30%. With new spark plugs, your vehicle can run as efficiently as intended.
Consistent combustion system – Spark plugs allow for the continuous production of combustion and leave your vehicle's system running as it should be.
Your Vehicle Starts Smoothly – Replace your spark plug, and when you turn the key in the ignition, you can feel your vehicle start effortlessly.
Less harmful emissions – Replacing your vehicle's spark plugs will help your vehicle operate more efficiently as well as improve your emissions.
When changing your spark plugs, you should only rely on OEM parts. Whether you need OEM Chevy parts or other automotive OEM parts, you can trust Allen Samuels Auto Group to have what you need.
Contact Allen Samuels Auto Group Today
If your vehicle is experiencing any of the previously mentioned issues, it may be time for new spark plugs. If you are unsure, let the highly-skilled technicians at our service center near Aransas Pass evaluate your vehicle. You can also visit our parts department for new spark plugs if you prefer to do your own vehicle maintenance. Contact us today. We would be happy to provide tips like how to repair dents and scratches. While you're here, be sure to read our helpful overview of how often to change your engine air filter.
More from Allen Samuels Auto Group