What is the RamBox Cargo Management System?

There are pickups, and then there are pickups like the RAM 1500, RAM 2500, and RAM 3500. What differentiates the new RAM lineup from competitors? For one thing, RamBox cargo management! This unique, RAM-specific storage system is available on a myriad of RAM models, and it helps make storing everything from fishing supplies to construction tools to valuables easier and more secure. Learn about what RAM models have RamBox, if RamBox is water-resistant, and what exactly RamBox is with Allen Samuels Auto Group!
What is a Cargo Management System, Anyway?
Before we wax and wane about what RamBox is and what its benefits are, we should probably take a moment to explain what a cargo management system is. Cargo management systems like RamBox are compartments built into the bed of a truck that allow Waco drivers to do things like store tools and equipment on the job site or valuables during date night. These handy systems are often made to accommodate longer items like shovels, fishing rods, and smaller personal effects.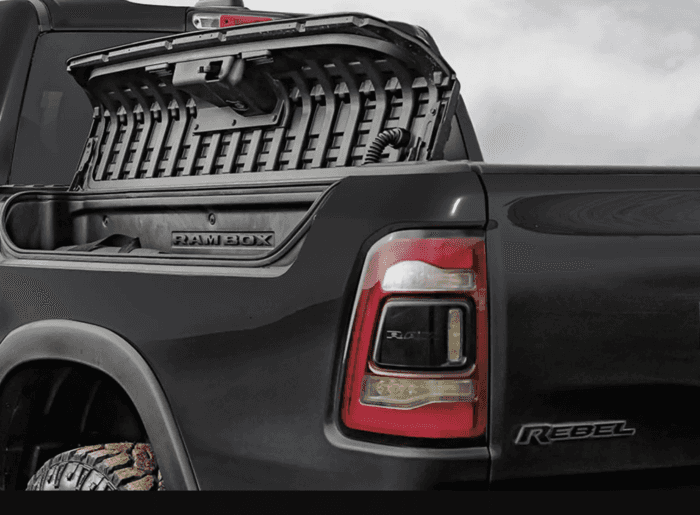 Is RamBox Water Resistant?
Asking yourself "is RamBox is water-resistant?" The answer is "yes!". In fact, RamBox is actually completely waterproof. What's more, it offers discerning Waco drivers with an AllSecure remote security system and is lockable so you can ensure your personal items stored inside RamBox stay safe and dry. But wait — there's more! RamBox storage compartments also provide handy drain plugs for filling up with ice and your favorite food and beverages. That's right; you can use RamBox like a cooler when tailgating, picnicking, or heading off to the daily job site.
What RAM Models Have RamBox?
If you need extra storage but you also have specific requirements for the type of truck you need to drive toa to accommodate your towing, hauling, or passenger needs, you'll be glad to know that the RamBox cargo management system is available on a wide variety of vehicle, including:
Ram 1500
Ram 1500 Crew Cab
Ram 1500 Quad Cab
Ram 2500 Crew Cab
Ram 2500 Mega Cab
Ram 3500 Crew Cab
Ram 3500 Mega Cab
Now that you know what RAM models have a RamBox, it's time to pick your perfect new RAM truck out of our selection of quality pickups for sale and lease here at Waco!
Learn More About RAM Models at Allen Samuels Auto Group
From Uconnect infotainment to a wide range of driver aids and active safety features, to plenty of towing and hauling ability, the RAM model lineup is rich with benefits. Contact us today for more information and to schedule an appointment at our service center near Waco!
More from Allen Samuels Auto Group
RAM stands for overwhelming power. When properly equipped, the 2022 RAM 3500 towing capacity is up to 37,090 pounds, depending on how you tow the load in question. Never mind boats or multi-vehicle trailers; this is enough pulling power to safely move small houses, provided they are mobile. In a way, it makes questions…

With an astounding 20,000 pounds of towing capacity when properly equipped, the RAM 2500 can handle just about anything you can imagine with the ease of lifting a finger. Explore the details of 2022 RAM 2500 towing capacity below, and find out, "How much can the 2022 RAM 2500 tow with various configurations?" Do…

The 2022 RAM 1500 weight matters for a number of reasons, most of all in terms of towing and hauling. RAM 1500 weight falls between 4,775 and 6,439 pounds. That all depends on the configuration you select for your RAM truck. We'll go over RAM 1500 GVWR, GCWR, and curb weight below if you…