What to Do After a Car Accident

Both big and small accidents are actually a pretty big deal. So if you've just been in one, it's normal to feel shaken up, tense, and confused about what to do next. But knowing what to do after an accident, including knowing about the car accident insurance claim process, can be instrumental in getting your needs met — whether physical, financial, or damage-related.
Keep reading so you know what to do after a car accident or are prepared in the unfortunate event one does occur at some point in the future. Have any questions? Just reach out! We'll be there to help you through the post-collision process.
Here's What to Do After a Car Accident
What to Do After a Minor Accident
From small fender-benders to parking lot uh-ohs, there are many types of "small" accidents, and no two are quite alike. Still, if you've been involved in a minor automobile collision, here's what to do:
If you're in stable condition, move your vehicle to a safe spot near the accident scene. You don't want to stray too far from the scene of the accident, and you should take pictures of the scene before you move your vehicle. That said, you also don't want to block traffic or put yourself further in harm's way.
Call the authorities. Even if the other driver suggests that you shouldn't get the police involved for a minor accident, it may be in your best interest to call. An official report could be the documentation you need to get insurance claims passed through properly & efficiently.
Exchange contact information. Get the phone numbers, email addresses, and the insurance policy information of the other driver(s) involved. Get a picture of everyone's driver's licenses too, in addition to a photo of the other vehicle(s)', license plate number(s), and insurance cards. Were there witnesses to the accident? If so, get their information, too.
Document your vehicle's damage. Document as much as you can. Far away pictures of the accident scene from multiple angles. Close-ups of the damage to both vehicles. These types of pictures can help you through the claims process.
Call your insurance provider ASAP. The sooner you call your insurance company, the sooner the claims process can start.
What to Do After a Major Accident
How are major accidents different from minor accidents? They often result in serious injuries or even possibly fatalities. The steps to take following a major accident are a bit different:
Call 911 ASAP. If you're seriously injured, you should alert emergency personnel or have someone call for you right away. An ambulance should come to take care of everyone's medical needs, in addition to the police, to assess the scene and damage. If you need immediate medical attention and can't document important information on your own, the authorities will have likely taken this into consideration. That said, it's always important to follow up to make sure this is the case after the accident when you're in the condition to do so.
Call your insurance provider. Did someone file a claim for you while you were receiving medical attention? Even if you didn't call yourself, you should still follow up with your insurance provider to give them your account of what happened and ensure everyone is compensated fairly.
Follow up with your primary care physician. If you're still feeling any pain after the accident and after being treated by emergency personnel, you should talk to your doctor.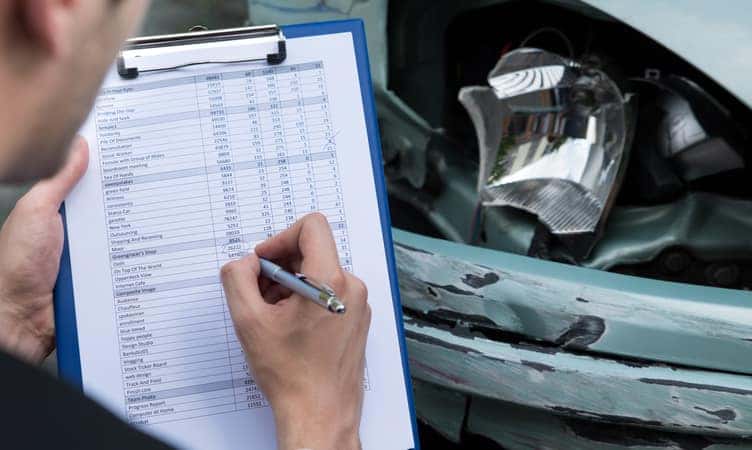 Here's How to File a Car Accident Insurance Claim
While the precise claims filing process may be marginally different depending on who your provider is, learning how to file a car insurance claim is mostly universal. When you file a claim with your insurance provider, you'll need to provide the following:
A detailed description of how the accident occurred
Your insurance policy number
The date, time, and location of the accident
All the collected contact and insurance information from other involved parties
The name of the police department involved, as well as the police report number (if applicable)
After you've completed all the above steps, an insurance adjuster will help you estimate the cost of your repairs, coverage, and more. Should your photos and accident account be deemed insufficient to estimate damages and determine fault, you may need to make an appointment to meet with an adjuster in-person or have them come to you.
The Allen Samuels Auto Group Collision Center is Here to Help You!
When you need your car, truck, or SUV repaired after an accident, Allen Samuels Auto Group is the place to go! Here at Allen Samuels Auto Group, we have several locations for the convenience of our customers. When you require additional information or assistance, all you need to do is contact our collision center. We are here to help!
More from Allen Samuels Auto Group
RAM stands for overwhelming power. When properly equipped, the 2022 RAM 3500 towing capacity is up to 37,090 pounds, depending on how you tow the load in question. Never mind boats or multi-vehicle trailers; this is enough pulling power to safely move small houses, provided they are mobile. In a way, it makes questions…

With an astounding 20,000 pounds of towing capacity when properly equipped, the RAM 2500 can handle just about anything you can imagine with the ease of lifting a finger. Explore the details of 2022 RAM 2500 towing capacity below, and find out, "How much can the 2022 RAM 2500 tow with various configurations?" Do…

The 2022 RAM 1500 weight matters for a number of reasons, most of all in terms of towing and hauling. RAM 1500 weight falls between 4,775 and 6,439 pounds. That all depends on the configuration you select for your RAM truck. We'll go over RAM 1500 GVWR, GCWR, and curb weight below if you…