How to Remove a Car Battery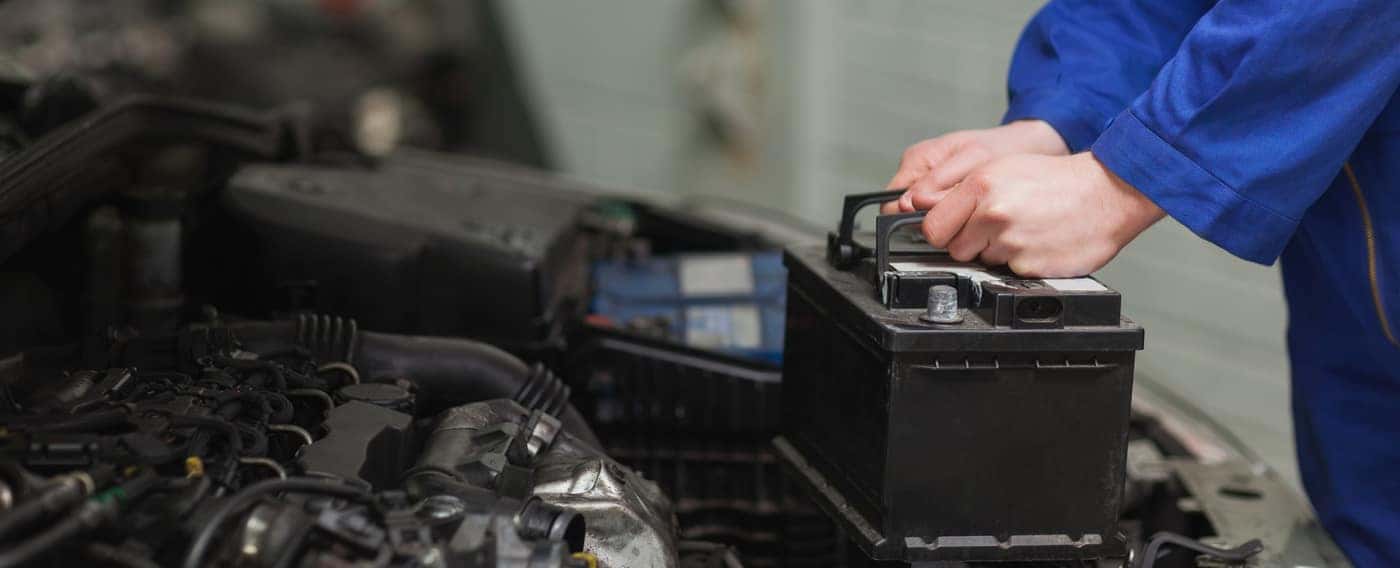 Sometimes you may notice your battery light flash on the dashboard while driving through Waco or notice other signs that your battery may need replaced. If you're more of a DIY driver but aren't quite sure how to remove a battery, then don't panic. Learn how to remove your battery like a pro from the service experts at Allen Samuels Auto Group. If you decide to bring in your vehicle for service, then visit our service center for quick and prompt service.
What You'll Need to Remove a Car Battery
Batteries contain a high amount of voltage, so you'll want to be sure to wear gloves when removing a car battery. You'll also want to be sure to wear safety goggles so as to protect your eyes from corrosive chemicals and other harmful substances. Turn your vehicle off before you start to remove the battery. Once your vehicle is off, and you're ready to remove the battery, you'll want to be sure you have done the following:
Use zip ties to keep the battery cables from touching and creating a spark.
Put a cloth over the positive end of the cable to avoid contact with another metal.
Remove any jewelry to prevent a possible shock from battery contact.
Make sure the room is well ventilated so as to prevent any harmful gasses from filling the room.
Removing the Car Battery
Now that you have the proper tools, you can follow these steps to remove the car battery:
Locate the negative terminal, which should have a black plastic cover or minus sign.
Using a wrench or pliers, grab the bolt head of the negative terminal and hold it still.
Remove the nut with another pair of pliers or a wrench, and pull off the negative cable away from the battery.
Repeat this process for the positive cable, and make sure that the two cables don't touch each other.
If there is a securing bracket holding the battery in place, then take out the screws or bolts of the bracket using a wrench or pliers.
Lift the battery out of the bracket with a firm grip as it will probably weigh about 40 pounds.
Now that you know how to remove a car battery, you can perform the process yourself. If you still feel unsafe and don't want to remove the battery yourself, then you can schedule a visit with our service center near Aransas Pass.
Car Battery Voltage Level
Since batteries have a high level of voltage, it may be important to know how much voltage is inside the battery. Usually, most batteries that are fully charged should have about 12.6 volts or more. This number increases to about 13.7 to 14.7 volts when the engine is running. It's important to test your battery for voltage levels, and you can perform your very own test. Here's how:
Turn on your vehicle and switch the headlights on.
The lights being dim may be a sign that they are running on the battery.
If the brightness of the lights increases as you rev up the engine, then it's possible that the alternator is producing some current but not enough when the car is idle.
If your lights have a regular level of brightness when you rev your engine and when your vehicle is idle, then your battery should be working normally.
For more helpful DIY car tips, visit the service experts at Allen Samuels Auto Group near Hutchinson.
Get Your Battery Serviced at Allen Samuels Auto Group
Now that you know how to remove a car battery, you can learn other helpful tips from the service center here at Allen Samuels Auto Group. Contact us to answer your service questions and get you back on the Waco roads in no time.
More from Allen Samuels Auto Group
RAM stands for overwhelming power. When properly equipped, the 2022 RAM 3500 towing capacity is up to 37,090 pounds, depending on how you tow the load in question. Never mind boats or multi-vehicle trailers; this is enough pulling power to safely move small houses, provided they are mobile. In a way, it makes questions…

With an astounding 20,000 pounds of towing capacity when properly equipped, the RAM 2500 can handle just about anything you can imagine with the ease of lifting a finger. Explore the details of 2022 RAM 2500 towing capacity below, and find out, "How much can the 2022 RAM 2500 tow with various configurations?" Do…

The 2022 RAM 1500 weight matters for a number of reasons, most of all in terms of towing and hauling. RAM 1500 weight falls between 4,775 and 6,439 pounds. That all depends on the configuration you select for your RAM truck. We'll go over RAM 1500 GVWR, GCWR, and curb weight below if you…