Are the tires on your car growing bald, but you're still hoping to get some more miles out of them before buying a new set? Do you wonder how to check tire tread depth? Allen Samuels is happy to help! Look around and find a penny so you don't have to ask how to check tire tread depth anymore. If you think it may be time for a new set of tires, contact Allen Samuels today!
What is a Safe Tire Tread Depth?
Tire tread depths are different depending on the type of tires. Typically, new tires have tread depths between 10/32 or 11/32 of an inch. Heavy-duty tires that are used for off-roading or winter driving conditions, have much deeper tread grooves to provide better traction. A safe tire tread depth is about 2/32 of tread according the U.S. Department of Transportation. If yours are less than that, it's time for a new set of tires. Call the parts department at Allen Samuels so we can get them ordered for you right away.
Use a Penny to Check Tire Tread Wear
Allen Samuels has the answer to the question, "How do I check tire tread wear?" Grab your penny because it helps measure the tread depths of your tires. You may also use a ruler, but if you don't have a ruler, a penny works too. When you have a penny in hand, follow these steps so you never have to ask "How do I check tire tread wear?" ever again.
Place the penny between the tread grooves on any of your tires. Rotate the coin so that President Lincoln's head is pointing down.
Look at how much of Lincoln's head is covered by the grooves of your tires.
If you can see all of Lincoln's face, the tread on that tire is below or at 2/32 of an inch and its time to buy new tires.
Check the tire tread depth in this same manner on all four of your car's tires.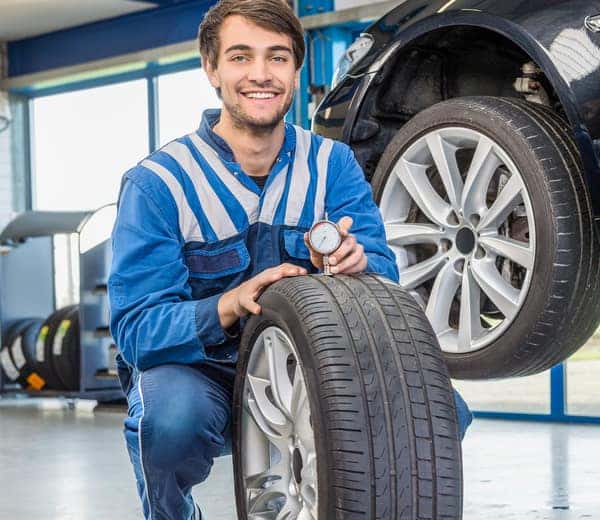 Tips to Help Keep Your Tires in Good Condition
If you have questions about tire care, contact Allen Samuels. You should also regularly do these things to help keep your tires in good condition:
Inspect all your tires for any signs of damage
Check for disintegration or excessive wear
Check your tire pressure (don't forget your spare tire)
Check the wheel alignment
Rotate your tires regularly
Call Allen Samuels if You Need Tire Service
You're probably no longer wondering how to check tire tread depth. If you have other tire care questions, call Allen Samuels. Our friendly service center is always happy to help. From new tires to oil changes, to auto service or car parts, we're at your service. Contact us today.