What Does Dodge R/T Stand For?



What does Dodge R/T stand for after all? The answer: "Dodge Road and Track," an elite line of performance trims for Dodge's more track-minded models. If you're your first consideration in the journey to your next car are its horsepower and torque, read on to learn about some formidable option in the market around Waco.
Road & Track History
The R/T or Road and Track configuration was first introduced as a trim on the Dodge Coronet in 1968. Since its inception, the R/T has gone on to be included in the trim menu of 29 Dodge vehicles, the most illustrious of which is the 1968 Dodge Challenger.
SRT® vs. R/T
The R/T trims are packed with sport-tuned performance features and have higher specs than the rest of a given Dodge model's configurations. Dodge's other performance trim, SRT® (Street & Racing Technology), however, offers even more performance features and higher specs. Naturally, SRT® models come at a higher price, and the R/T brand is best defined as an affordable alternative in the world of performance vehicles.
Vehicles With R/T Trims
If you are looking for an R/T model, you have plenty of options to choose from with trims on the:
Dodge Challenger
Dodge Charger
Dodge Durango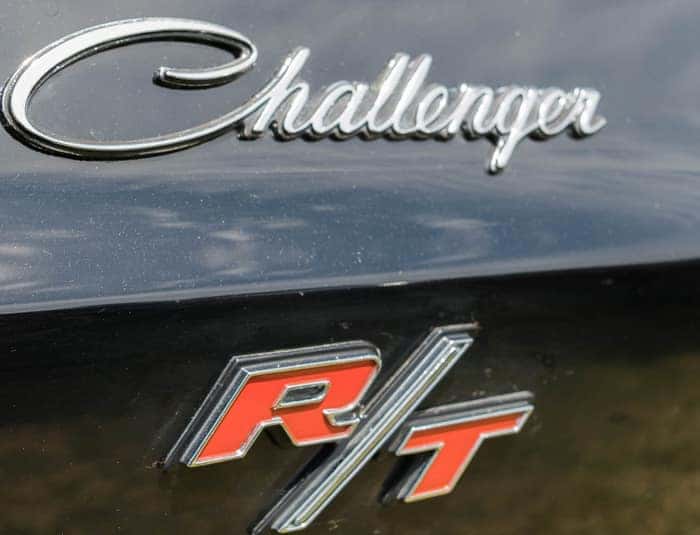 Performance Features of the R/T
Performance features on R/T models differ between vehicles, but you can be sure that despite their differences, each model comes ready for the track. A few common features between them include:
Brembo Braking: These brakes can take abuse without overheating. They're particularly durable and capable of enduring lightning-quick stops.
HEMI® Engines: These engines are a household name when it comes to horsepower, torque, and rotations.
Aerodynamic Design: The use of hood scoops, rear spoiler, and more, allow the R/T trim to reduce drag and achieve greater speed.
Experience R/T the Difference at Waco
So what does R/T stand for? Superior performance. If you have further questions on how you can test drive a Dodge Road and Track trim, Charger Scat Pack or SRT® around Waco, don't hesitate to reach out to a Allen Samuels Auto Group dealer in greater Waco. For more information on how we can accommodate you, don't hesitate to contact us and find an Allen Samuels dealer near you.
More from Allen Samuels Auto Group
RAM stands for overwhelming power. When properly equipped, the 2022 RAM 3500 towing capacity is up to 37,090 pounds, depending on how you tow the load in question. Never mind boats or multi-vehicle trailers; this is enough pulling power to safely move small houses, provided they are mobile. In a way, it makes questions…

With an astounding 20,000 pounds of towing capacity when properly equipped, the RAM 2500 can handle just about anything you can imagine with the ease of lifting a finger. Explore the details of 2022 RAM 2500 towing capacity below, and find out, "How much can the 2022 RAM 2500 tow with various configurations?" Do…

The 2022 RAM 1500 weight matters for a number of reasons, most of all in terms of towing and hauling. RAM 1500 weight falls between 4,775 and 6,439 pounds. That all depends on the configuration you select for your RAM truck. We'll go over RAM 1500 GVWR, GCWR, and curb weight below if you…