Are All FIAT Cars Stick Shift?

Can you equip your FIAT vehicle with an automatic transmission? The answer is absolutely yes! While FIAT vehicles are known for their efficient manual transmissions and powerful engines like the Tigershark®, you can also choose to outfit your FIAT with an automatic transmission if that is your preference. Explore your transmission options for the new FIAT vehicles below!
What Are Your FIAT Transmission Options?
2019 FIAT 500
Standard 5-speed manual
Optional heavy-duty 6-speed automatic
2020 FIAT 500X
Standard 9-speed 948TE AWD automatic
2020 FIAT 500L
2019 FIAT 500e
2020 FIAT 124 Spider
Standard 6-speed manual RWD
Optional 6-speed auto RWD
Transmission Options for FIAT ABARTH Models
Are you interested in a FIAT ABARTH model? If so, you have a few different transmission models to choose from. You can outfit your FIAT 500 ABARTH and FIAT 124 Spider ABARTH with the optional heavy-duty 6-speed automatic transmission or you can opt for the standard 5-speed manual on the FIAT 500 ABARTH or 6-speed manual on the FIAT 124 Spider ABARTH:
Heavy-Duty 6-Speed Automatic: This transmission delivers higher torque capability than most other standard 6-speed automatic transmissions currently on the market. If you want to take your commute to the next level, switch to Sport Mode.
5-Speed Manual: A well-placed shifter and perfect pedal position make rev-matched downshifts smooth and simple.
6-Speed Manual: A short-throw shifter reduces the distance the gear lever has to travel between gears. This means a more exciting level of performance every time you hit the road.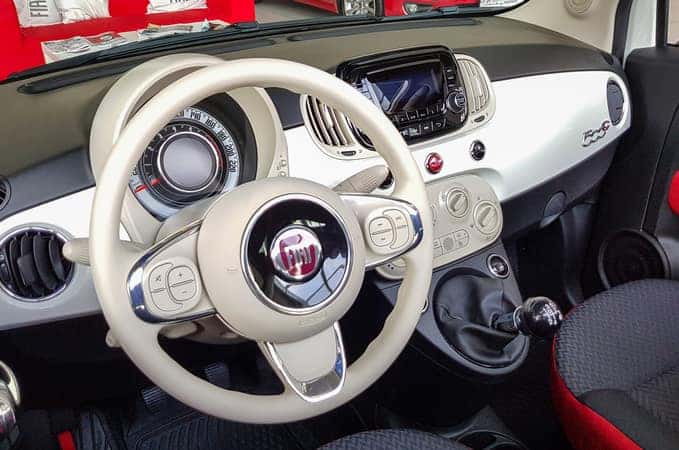 Single-Speed Transmission Information
As the standard offering for the 2019 FIAT 500e, the single-speed transmission was carefully crafted exclusively for this electric vehicle. The output from the electric-drive motor is transferred to the wheels. At the same time, a reduction gear allows for lower electric motor input speeds, reduced battery use, and all-around more economical energy use. What's even better? This vehicle operates efficiently without sacrificing performance.
Explore a New FIAT with Stick Shift or Automatic at Allen Samuels Auto Group
To summarize: Are all FIAT cars stick shift? No, you can still have an automatic transmission with many of the FIAT configurations currently available. To see which FIAT is best suited to your driving needs and budget, visit Allen Samuels Auto Group or contact us with any questions. We would be glad to help you find the FIAT of your dreams, and we strive to make the financing process hassle-free.
More from Allen Samuels Auto Group
RAM stands for overwhelming power. When properly equipped, the 2022 RAM 3500 towing capacity is up to 37,090 pounds, depending on how you tow the load in question. Never mind boats or multi-vehicle trailers; this is enough pulling power to safely move small houses, provided they are mobile. In a way, it makes questions…

With an astounding 20,000 pounds of towing capacity when properly equipped, the RAM 2500 can handle just about anything you can imagine with the ease of lifting a finger. Explore the details of 2022 RAM 2500 towing capacity below, and find out, "How much can the 2022 RAM 2500 tow with various configurations?" Do…

The 2022 RAM 1500 weight matters for a number of reasons, most of all in terms of towing and hauling. RAM 1500 weight falls between 4,775 and 6,439 pounds. That all depends on the configuration you select for your RAM truck. We'll go over RAM 1500 GVWR, GCWR, and curb weight below if you…