Can You Remove a Cosigner from a Car Loan?

Sometimes, when applying for a car loan, drivers need a cosigner to be approved. Usually, the prospective car buyer reaches out to family or friends to help them secure a new car, asking them to cosign. However, after some time, financial situations can shift and drivers need to learn how to remove a cosigner from a car loan. The finance team at Allen Samuels Auto Group explains the process of removing a cosigner from an auto loan. Read on to learn more about how to get a cosigner off a car loan below.
What's the Purpose of a Cosigner on a Loan?
Cosigners are needed to make it easier for the borrower to be approved for a car loan. Usually, cosigners are needed if the borrower has a low credit score, no credit history or a lower income. This is to reassure the lender that if the borrower is unable to make the payments, there is another party to fall back on. A cosigner agrees to cover the loan payment in the event the borrower cannot. Before agreeing, a cosigner must be sure they can afford potential loan payments.
How to Remove a Cosigner from a Car Loan
Typically, borrowers can remove a cosigner by taking one of the following courses of action:
Refinance the Loan: Loan refinances happen under certain circumstances, such as divorce. Removing a cosigner from a loan, in terms of an ex-spouse, a refinance is needed. A divorce doesn't dissolve the original car loan. Refinancing in your name or theirs is important to remove the cosigner so the loan will become someone's sole responsibility.
Cosigner Release: Alternatively, some car loans have a cosigner release option. A cosigner can be released after a specific amount of payments have been made — in full and on time. If your loan allows this, contact your lender and learn more about this option.
Sell the Car and Pay Off the Loan: If your name is on the car title, you have the power to sell the car to someone else and use your earnings to pay off the loan, freeing both yourself and the cosigner from any obligation.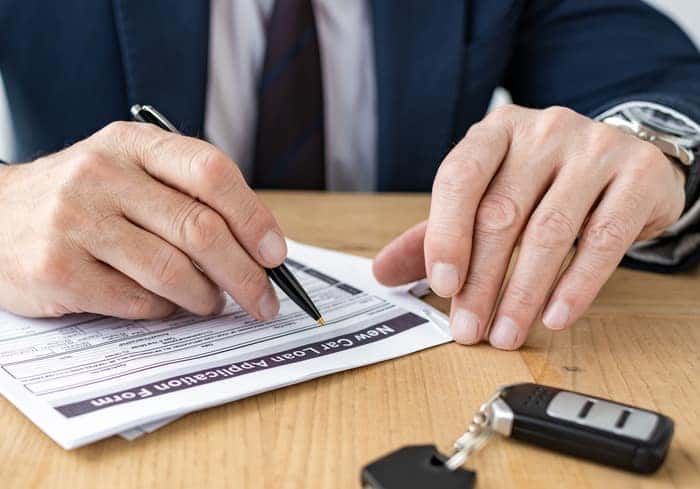 Learn More About Car Financing from Allen Samuels Auto Group
Hopefully, this article helped you figure out how to remove a cosigner from an auto loan. To summarize, it is possible but you'll need to refinance, sell the car and pay off the loan, or use the cosigner release options pertinent to your loan. Contact us and we can talk further about the ways to finance your car. Also, learn the value of your trade-in, then see if you're pre-qualified. We're looking forward to helping you!
More from Allen Samuels Auto Group
"What's the mileage?" is one of the first questions we hear from used car shoppers. It's an important consideration, as conventional wisdom says that the more miles a car has been driven, the more wear and tear it has undergone. However, the common belief that buying a used car with over 100,000 miles on it…

When you buy a new car or a new truck from Allen Samuels Auto Group you'll have a number of finance and insurance options to choose from. Gap insurance is one of these options. So what exactly is gap insurance? The simplest explanation is that it covers the gap between the amount you owe on a vehicle and…