Many drivers struggle to decide whether buying or leasing is the best option for their driving needs and budgets. However, you do not always have to make a final decision at the time of purchase. You can opt to lease the vehicle for the first few years, and there is often a chance to buy out your lease before or at the end of your term. Have you been asking, "Can you negotiate a lease buyout?" If so, the answer is likely yes! Most leasing agreements include an estimated buyout price in the contract. However, keep in mind that there is usually a chance to negotiate an even better deal. Allen Samuels Auto Group has all of the details.
What is a Car Lease Buyout?
Before diving into how to negotiate a car lease buyout, let's answer a key question: What is a car lease buyout? A lease buyout is when a driver purchases their leased vehicle, either at the end of their contract or at some point prior to their contract ending. A purchase price option is typically set when the lease is signed.
How Are Car Lease Buyouts Calculated?
Now that you know what a car lease buyout is, let's discuss how they're calculated. The lease buyout price is calculated by adding up the residual value of your vehicle at the beginning of the lease, the total remaining payments, and possibly a car purchase fee (depending on the company you lease with).
Is a Car Lease Buyout a Good Idea?
Buying out your lease is a good idea if you'd like to commit to a vehicle long-term, rather than leasing another vehicle. To determine if a car lease buyout is right for you, you'll want to consider if the car is even worth purchasing. How do you make this decision? First, you'll need to know the car's residual value, and if the car has a higher value, purchasing it is a good choice. On the other hand, if the vehicle's value has dropped during your lease term, you may want to avoid a lease buyout unless you can negotiate a lower price.
A lease buyout may also be a good idea if you're trying to avoid potential fees. For instance, if you've gone over your mileage limits or have made any damages to the vehicle, purchasing it might save you money as opposed to paying fines.
How to Negotiate a Car Lease Buyout
Can you negotiate a lease buyout? You absolutely can! During the end of the lease negotiation process, these steps can help ensure that you are getting the best deal possible:
Research and be prepared – In most cases, the leasing contract includes an estimate of the vehicle's value at the end of your leasing contract. Research the market price of your vehicle to see if there is a big difference between that and the estimated value. If the market price is a lot lower than the estimate in the contract, it is usually a good sign that you will be successful in negotiating a better purchase price.
Talk to your financer beforehand – Unless you've secured financing through your dealership, your dealer may not be the sole determiner of the lease buyout price. If the financer is a credit union or local bank, you will want to negotiate directly with them.
Make an offer – With the knowledge you've gained from your research, you are prepared to go to the dealer with a lease buyout offer. If you can prove that the estimate in the contract is inaccurate, there is a good chance your new offer will be closer to what you are asking for.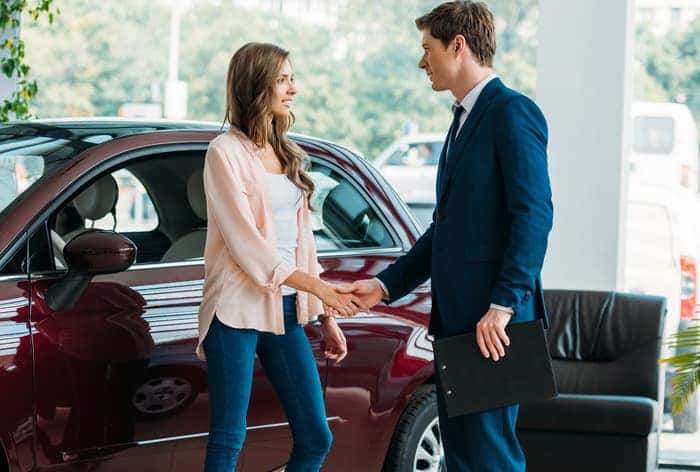 Determining the Best Lease Buyout
Now that you know a little more about how to negotiate a car lease buyout, you need to also decide when it is the best time to proceed. Usually, drivers opt to purchase the car once the terms of the lease are complete, but you may find that your contract gives you the option of an early lease buyout. Here is what sets the two options apart:
The price of a lease-end buyout is usually set in the contract at the start of your lease. It's based on the residual value at the end of the leasing term. It is possible to negotiate for a better price.
An early lease buyout can benefit drivers who are looking to avoid mileage and service penalties. The price is figured out by looking at how much is still owed on the lease as well as what the vehicle is estimated to be worth at the end of the lease.
Lease or Buy with Allen Samuels Auto Group
Now that you know how to negotiate a car lease buyout, it's time to decide if that is an option you are interested in. If so, feel free to reach out to Allen Samuels Auto Group for more information. We would be glad to discuss the process even further and share our car-buying tips.